Kayak Camping Ross Lake
2022 Jul 1

I kayaked-camped at Ross Lake with an interesting group of guys. We had good company and beautiful scenery.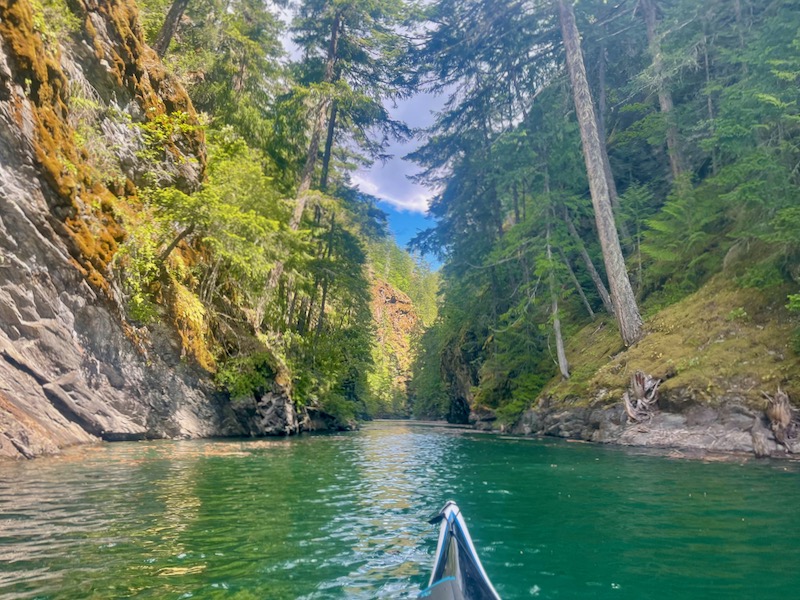 The Ross, Diablo and Gorge lakes are a series of reservoirs that create hydropower for the city of Seattle. Ross is the longest at about 23 miles and at its north end it crosses about a mile into Canada. There is no road access to Ross from the US side. However, you can drive to Diablo and then travel by boat to Ross. We did this by putting in at Colonial Creek Campground.
That day there was a bit of wind and initially it was against us. Some of our group were not very experienced and things were rough at first. However, when we made a sharp right turn to go up the arm to Ross Dam, the wind was behind us, and it was much easier. A couple of the guys used their paddles as sails and almost didn't need to paddle. :-) The rollers were also with us and for me were perfect for surfing. I was able to ride them for about a mile, going faster than everyone else.
At a sharp turn north, the lake arm is in a canyon with very vertical walls. There the wind was whipping around and grabbing the surface of the water and lifting spray into the air. I had not seen that before - it was very cool!
The Ross Lake Resort runs a truck service to portage loaded kayaks or canoes between the lakes. It is an interesting 20 minute trip in low gear up a very steep road.
There are a whole series of excellent campgrounds along Ross Lake. We had great campfires each night in the included fire rings because of plentiful driftwood. The first night there was a little bit of rain while we were in our tents. It made a great ambience.
The next day we went north to the Desolation Peak trailhead for a hike. A lovely section went through a meadow which had all kinds of wildflowers in bloom. The view from the top is fantastic.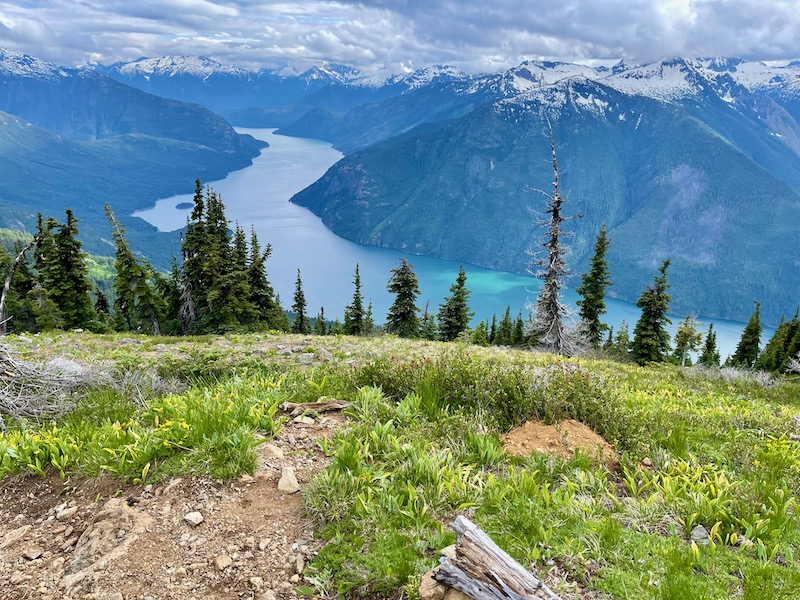 At the top is a fire lookout which is one of the few manned ones that is left. Jim had just moved in for the season a couple of days earlier and was very interesting to talk to.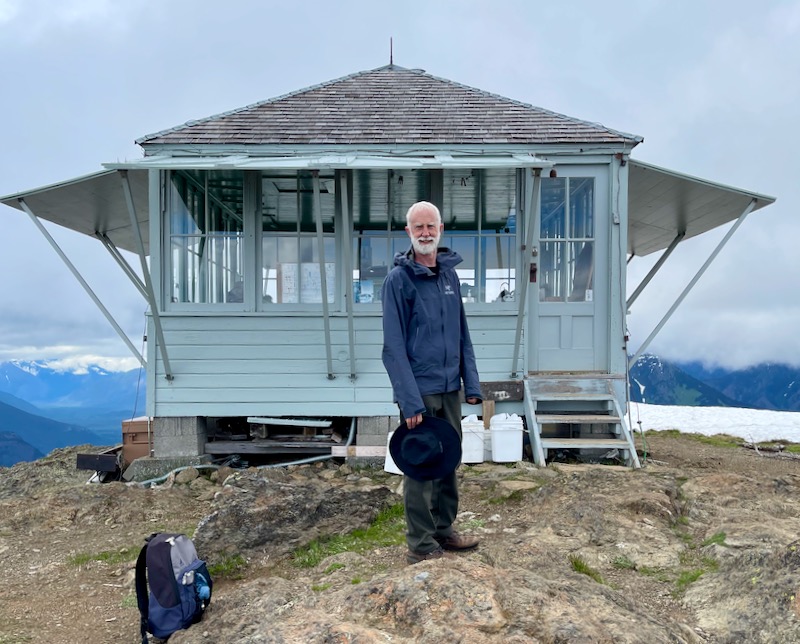 The hike is fairly challenging and took longer than expected. By the time everyone was back to the boats, crossed the lake to the campground, and had eaten, it was late and quite dark. Everybody went right to bed.
Next morning was lovely. All we had to do this day was go ten miles to our next campsite. We had worried a little about wind against us, but the air was still and the lake was calm.
We passed a number of impressive waterfalls. I went right up to that large vertical log at this one. Up close the falling water whips up quite a cold wind and spray. I had to blink my eyes as fast as I could just to be able to see, the spray was stinging, and the flow kept trying to push me around. Fun!
The lake and the mountains were gorgeous. It leaves you in awe just to be able to be there.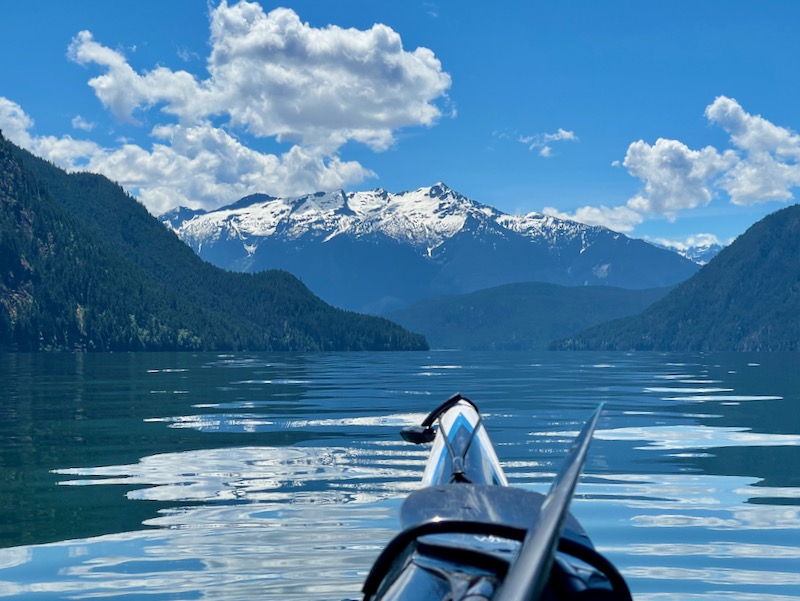 I brought my regular paddle and a newly purchased Greenland style paddle. This trip would be a good opportunity to learn how to use the new paddle. As I became familiar with it, I liked it a lot and found I was using it the most. It takes more skill to use well, but it seems more refined. Since Ross is so remote, the lake is very quiet. Drips off my regular paddle don't make much noise as I am moving, but this new paddle is almost completely silent. Nice!
Our last campsite was right by a good-size river with a last section of mild whitewater, so I paddled over to it. The second time going through the whitewater, I went upside down for a swim. Not to worry. My friend Mike had come to watch me having fun; he held my boat so I could quickly climb back in. Then I went back and figured out how to go through the section. I circled around through the waves half a dozen times, and it was great!
The next day we packed up and went back near Ross Dam to get our portage ride. It was another pleasant day and too quickly it was over. After packing our boats on to the vehicles, we met up again in Marblemount for a good meal.
It was an excellent trip.