How I came to own a 2017 MST and the adventures that ensued therein
2020 Sep 27

This is a guest post by my son Alan who lives in upstate New York. He put this in the Motus Owners Group page on Facebook about purchasing a Motus Motorcycles bike. It is reproduced here with his permission.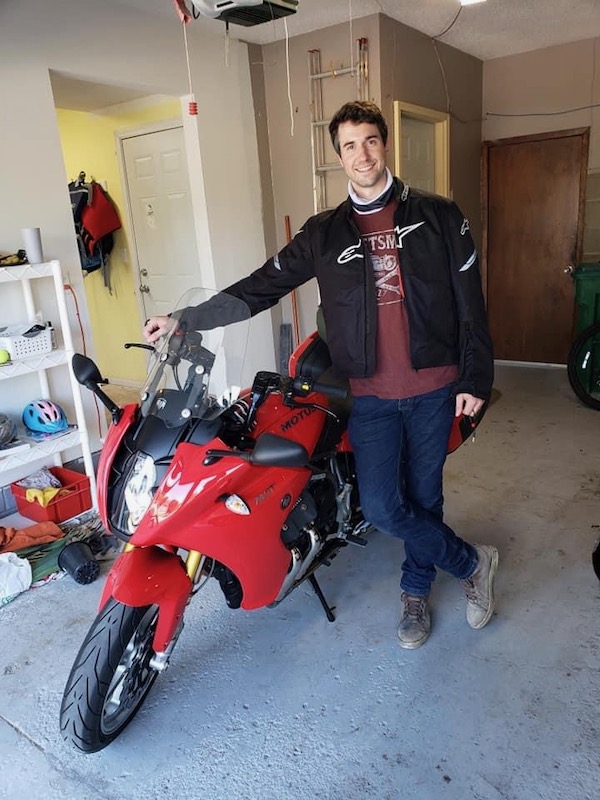 Here begins the story of how I came to own a 2017 MST and the adventures that ensued therein.
Chapter 1: the itch
This story begins a few weekends ago at the wedding of my girlfriend's best friend. She was the maid of honor, which meant we were going to stay for a couple of days afterward so all the old friends could catch up. Turns out, the father of the bride is a man after my own heart - a huge garage full of toys and a litany of stories about things that go vroom. After spending a morning talking cars, motorcycles, and the speeding tickets that sometimes are associated with such things, I got the urge to add to my own toy collection.
My first bike is a 2004 Sv650 that has become more track focused and less comfortable for those hour-plus trips I had been finding myself making more of lately. Things on the SV are fine for about an hour, then you start wishing the pegs were just a little bit lower, the bars a little higher, and the seat just a little softer. I wanted something that I could ride in comfort for longer hauls, something that would let me keep the SV track ready, and most of all, something that is special.
Most of the vehicles I have owned have been a bit odd, different, or quirky some way. I like vehicles that stand out in a crowd, or that only a few people really know what they're looking at. So, along with some other minor criteria (like comfortable passenger accommodations), I began my search.
Chapter 2: the hunt
The usual places to look offered a few good prospects. The Honda dealership by my house has a 2019 Africa Twin for a really great price - maybe not special enough. They also have a beautiful 2004 Valkyrie Rune - no passenger accommodations and maybe a bit too nice to really be a daily rider. A guy on craigslist had a 2014 M109R for a fair price - maybe not so great on long hauls with a passenger. And way up in Buffalo, a dealer has two Motus for sale - a red MST and a bronze MSTR. Talk about ticking all the boxes! So, test rode the M109R, sat on the Africa Twin and Rune for a while, tried out a new goldwing a bit, but all the while I had Motus on the brain.
So, I gave the dealer a call and what do you know, "I just sold them" was the reply. "But", he added, "the guy I sold it to says it doesn't really fit him, so he's gonna put it up for sale. Do you want his contact info?" Jackpot! Turns out, the guy had a knee injury a long time ago and he didn't want to chop up the bike in order to get some highway pegs on it, so he was looking to replace it with something that suits him better. If I wanted it, it was mine.
Chapter 3: the beginning
I decided I would take advantage of the long Labor Day weekend and put another 1000 miles on what is essentially a brand new bike. I've never road tripped on a motorcycle before and Corona had already ruined one summer vacation I had been planning in Seattle, so what better time than now to have a little mini vacation? The girlfriend was going up to her Dad's place for the weekend and the Albany airport was right on the way, so I hitched a ride and got on a plane to Minneapolis on Saturday morning. Several very long hours later, I landed in Minnesota and was in the back of an Uber riding to Rob's place to buy a motorcycle I had never seen, ridden, or frankly even heard of until a little over a week beforehand. I was giddy with anticipation to say the least.
Minutes later, I was there, and there she was. I know I may be preaching to the choir here, but this bike looks so much better in person. Maybe its the size that's just a bit smaller than you'd expect, giving it a lean athleticism? Maybe its all the black anodized billet machined pieces whose details you can't truly appreciate until you're standing right next to it? Perhaps I'm just a sucker for things that I know have a power to weight ratio north of 500bhp per ton? Whatever the reason, I knew this was a good idea right then and there.
Rob was great. He and I certainly have a few things in common, a love of two wheels being the obvious one, which meant we were shooting the breeze in zero seconds flat. As I had never seen a Motus in the flesh before, he showed me how the side cases worked, how to adjust the Heli-bars, where the rear spring preload adjustment was located, etc. I messed around with the bars a bit (more on that later), threw my backpack in the pannier, strapped my tent and sleeping bag to the back, and was on my way. I made sure to slip the clutch real nice and slow, because I wasn't about to stall it first thing right in front of everyone. All went well right out of the gate, so my journey was thus far only a few hours in, but I had a gleaming red beast between my legs and over a thousand miles to go before ending up back in my own bed.
Chapter 4: the Incident
About 20 minutes on the road I find myself riding down one of those two-lanes-both-ways kind of main drags. You know, one that has a light about every half mile - the kind that lends itself well to the discovery of just how much adhesion your rear tire (or tires for those occasions you have four wheels on the ground) is capable of supplying.
Now, let's preface what I'm about to tell you by admitting that I have been known to be a bit of a dingus at times. Every now and then during my riding career, my enthusiasm and absence of risk aversion will overcome my level of skill, and will lead to situations where I was no longer the ride-er, but the ride-ee. This was one of those times.
A quick turn of the right wrist freed the front tire from it's usual lowly disposition much quicker than I anticipated. I managed to close the throttle before looping it entirely, but upon returning the front wheel back down to earth, I discovered that I hadn't tightened all the bolts for the bars quite enough, so they rotated forward at the base and at the bars themselves. I was a bit flustered in that moment - bars all wonky, feet off pegs, legs akimbo, and my brain trying to catch up to what was happening.
In my head, the next move was to shift up to second because I was pretty much bouncing off the limiter, but in that moment, I forgot this bike has the standard shift pattern, unlike my other bike which I've been riding around for over a year set up as GP shift for track days. So clutch-in, hit shifter down, clutch out resulted in me effectively dumping the clutch in first gear when the engine had already dropped back down to idle. I don't know if the rear axle wasn't properly torqued, or if the rear tire just had massive amounts of grip, but the force from the bottom side of the chain yanking forward on the rear sprocket was so great, that it rotated the eccentric bushing on the left side of the axle, allowing the chain to come off the sprockets entirely.
Oh, what a gruesome noise! I thought the chain broke for sure. I managed to pull off to the side of the road in order to assess the damage, and things considered, it was fairly minimal. The carbon cover over the front sprocket was all chewed up, along with the transmission side plate and the clutch slave cylinder. The swing arm and chain also took a bit of a beating, but I was able to get everything back into place and tightened up using the tools in the under seat tool kit. Note to self: 1 down, 5 up, and let's take it easy on the throttle, especially in first gear.
Chapter 5: the Journey
The first leg of the trip was the shortest. I had just a few hundred miles up to northern Wisconsin to stay with an old friend. My earlier setback meant I was getting to my destination after dark. The temperature was dropping down into the low 50s, and a light fog around sunset made me really thankful I brought my cold weather gloves. The heated grips and seat were also very appreciated.
I did notice something weird with the headlights though. The high and low beams were backward! With the switch flipped to low, the headlights were pointing way out of front of me. Flip the switch to high, and the light only illuminates about 25 feet in front of me… Very odd… oh wait, no. The headlight was pointing so far upward that the high beams were pointing up into the trees. Either they were severely out of adjustment, or coming down from that near-nooner tweaked them out of adjustment.
In any case, I had all the time in the world the following day to dig into it. I spent a couple hours taking off the fairings and intakes, adjusting the headlight, rechecking the chain tension, making sure everything on the rear axle was still tight, then putting everything back together again. I managed to drop one of the fairing quarter-turn fasteners down behind the radiator, and apparently into the land of Narnia, because I couldn't find it for the life of me. I even removed the bolts that hold the radiator on so I could really get in there, but to no avail. By the way, does anyone know where I can get another one of those?
The next day was a full day of riding. I had a campsite reserved at a state park just outside of Toledo, which was 600 miles away, so I left right as the sun was rising. It was cold again, but I put on all the clothes I brought with me, turned all the heated stuff on high, and cranked up the tunes. This would be the longest ride I have ever done so far, and it was a breeze. A few stops for fuel, coffee, and food, a long day of interstate miles, and I would still manage to get my tent set up before the sun went down (barely). The cold morning had given way to a balmy afternoon as I rode south. Even after nightfall, it was still fairly hot and humid and it rained that night, hard. My thin sleeping pad did not do good things for my back, so sleep came in fits and spurts and I found myself cursing previous dreams of motorcycle camping adventures. Why didn't I just get a hotel room? Oh well. Now I have a story to tell my grandkids, I guess.
The next morning, I was up before sunrise. The rain had stopped, so when it just started to get light out, I broke down the tent and loaded everything back on the bike. The weather was going to be beautiful and I had some of the best roads of the trip ahead of me. Instead of staying on the interstates, I cut down through the middle of Pennsylvania, taking the long way through the Allegheny National Forest. I love this part of the country. Basically all of Pennsylvania between Pittsburgh and Philadelphia is prime territory to just go for a ride. Farms, cows, rolling hills, and twisty roads - add sunshine and temperatures in the 80s and I guarantee you'd be hard pressed to find anything better outside of a racetrack.
I did have one more little hiccup. As the trip went on, I was beginning to notice the clutch was disengaging less and less. I knew the clutch was prone to getting air in the lines, and perhaps the abuse it took from getting acquainted with the chain just days before didn't help. Whatever the reason, I came to a stop light shortly after leaving I-80 for more fun roads, and had to kill the engine as I was coming to a stop because the clutch lever decided to finally stop doing anything. A huge thanks goes to the guys at Riverhill Battery House in Shippenville, PA. They let me pull into their shop and gave me a little piece of hose and a 6mm wrench so I could bleed the clutch. Pretty much all the guys that worked there rode bikes, so they were really interested in the Motus. We shot the breeze for a little bit, but I was eager to get back on the road, so in about 20 minutes I was back on my way home.
There's not much left to talk about for the rest of the trip. I made it back just before dinner, and went to bed early to catch up on sleep. Looking back, it wasn't the adventure I thought it would be, but despite the few bad things, it was a really great experience. This bike has already had quite the history. Two owners and 2500 miles on the clock all in the span of a few weeks. Here's to many more!