We arrived in Brazil on August 9, 1975.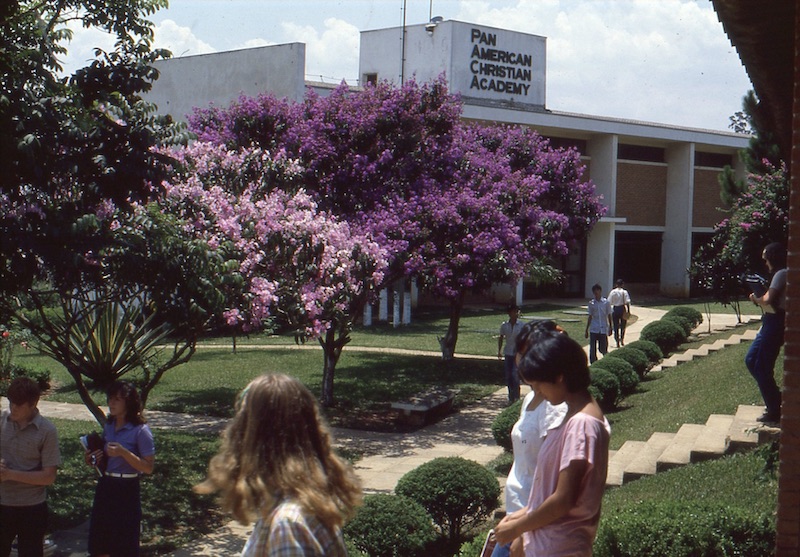 The children started school at Pan American Christian Academy the very next day. Grampie and Marilyn were in grade 9, and Lisa was in grade 6. Leslie and I started Portuguese language school the following day.
You might be wondering why we wanted to go halfway around the world to from Japan to Brazil. Many people do not know that Brazil has the largest population of Japanese living outside of Japan. Our mission (JEM) had decided to begin working with Japanese people in Brazil. Our colleagues from Japan, Bob and Eleanor Spaulding had gone to Brazil 3 years before, and they encouraged us to join them.
Grampie was the most enthusiastic about going to Brazil because his close friend Bobby was there, and they would be able to go to high school together. Marilyn found it a bit more difficult to leave new friends she had made at VCS. Lisa was content with God's plans for us.
For the next 20 years GGpa would work in church planting and Bible Camp development, and I would teach music at the Pan American Christian Academy. All three of our children would graduate from PACA and help in the ministry.
After four years, Grampie and Marilyn graduated from High School at PACA. So, we returned again to North America for home assignment.
---
About Japanese people:
Japanese are among the largest unreached people groups on the world. Most of the 126 million people have never come in direct contact with Christianity.
Out of 692 large cities, 86 have only one church. 10 large cities have no church at all. There is one missionary for every 56,000 Japanese!
Shinto and Buddhism are the main religions, which are widely practiced but not widely believed. Japan is ripe for the Gospel. When asked if they could choose a religion, 79% expressed the greatest interest in Christianity.